What's new in WaveVisual
Last updated on August 8, 2023
New font families (November 29, 2023)
New font families for text elements were added. Bangers, Caveat, Cookie, Pacifico, and Permanent Marker.
Sound wave trimming (August 8, 2023)
We always aim to make your sound wave art creation as unique as your memories. Now, with our latest tool, you have the capability to trim and tailor your audio and sound wave uploads with utmost accuracy. Get the exact representation of your cherished moments and dive into the design process with renewed focus. Create, adjust, and perfect — all in one place!
Below is how the process looks before, during and after.
Read more about this new feature.
New Canvas Size: 11x14 (December 6, 2022)
We are excited to announce that our design tool now has a new canvas size! The new dimensions are 11x14, providing you with more space to create and design. We hope that this new size will give you more flexibility and creativity in your projects.
Credit Packs (December 3, 2022)
Do you need to create many sound wave art but don't want to purchase a subscription? Then credit packs are the products for you. We're now enabling you to purchase large amount of sound wave design credits without having to subscribe to an auto-renewing plan. This was requested in the past by our customers who work on seasonal projects which required them to subscribe from time to time but always had to make sure they cancel. Now, you can simply purchase credits as a pack. Take a look at their pricing here.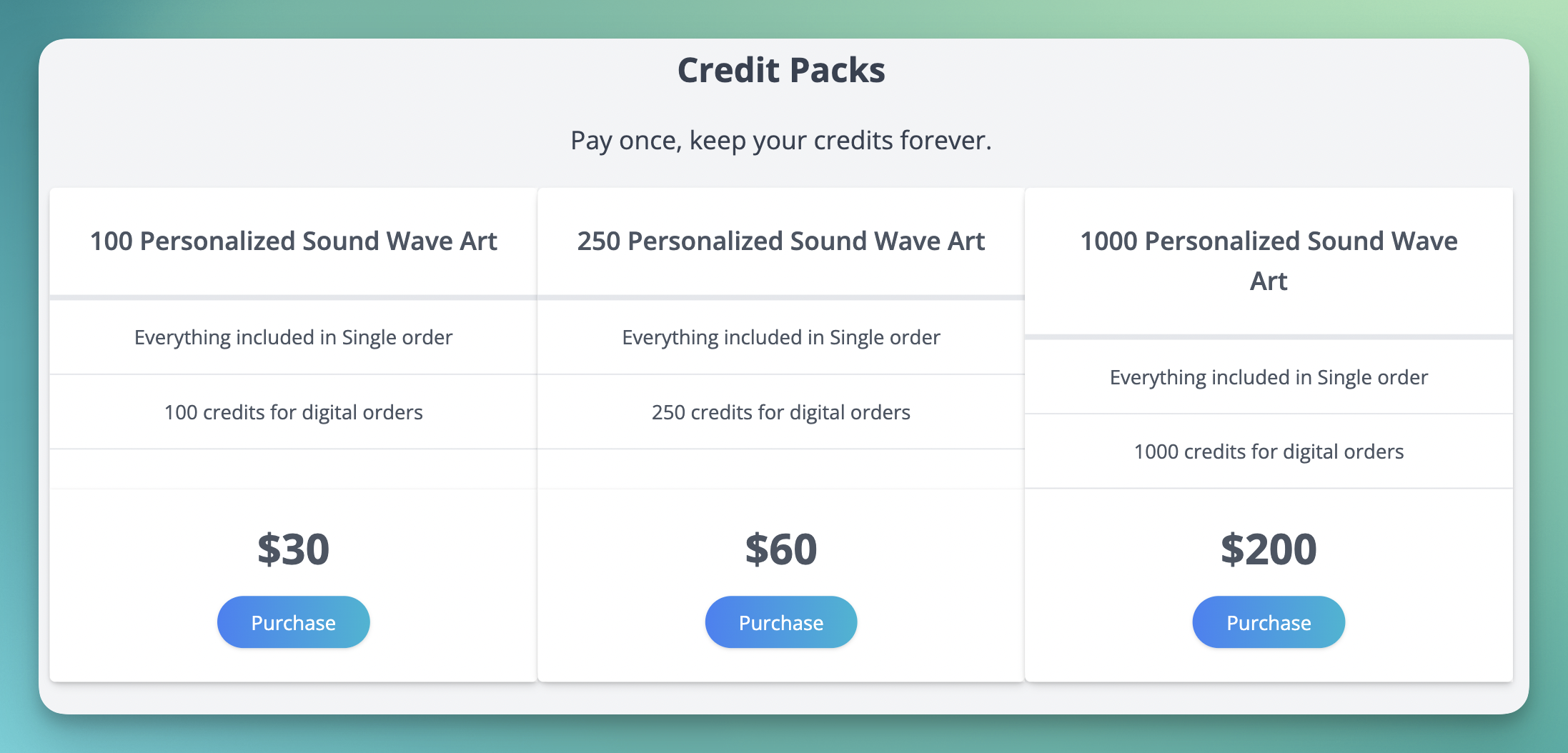 Custom QR code color (November 3, 2022)
Black QR codes are useful for most cases. But they can be invisible to phones when placed in front of a dark background. To enable our users to compensate for that and to provide more customization options, We've added a color selection functionality for your QR codes. Generate a QR code under QR tab and the option will be visible to you.
October 2022 Update
October has been in WaveVisual. Unfortunately, we weren't able to deliver any major features. Instead, we worked hard on improving the current experience and fixing a miriad of issues. We're also working hard on providing various printing options through our print-on-demand partner.
Keyboard shortcuts (September 30, 2022)
Our sound wave art editor continues to improve. It now supports common keyboard hot keys like ctrl + z, backspace and escape. Here are their use cases:
Backspace can now remove selected Text and QR code elements
Escape button now deselects a selected element
Ctrl + z and Cmd + z now execute an undo command that rolls back last change that was made
Ctrl + Shift + z and Cmd + Shift + z shortcuts now redo the last move that was rolled back
Templates (September 26, 2022)
Finally, templates are here. We have created a few templates for you to help you get started with your artwork and get inspiration. Simply head to our editor and view our templates under Templates menu.
Annual subscription plans (September 19, 2022)
Looking to get hefty discounts on your subscriptions? We now offer annual subscription plans in addition to our current monthly plans. Our annual plans come with 40% discount compared to their monthly counterparts. Our pricing for monthly plans did not change.
Take a look at our pricing to take advantage of the discount.
Delete draft designs via Trash (September 8, 2022)
Too many drafts? Just move them to Trash.
We placed a "move to trash" button to Your Designs page for you to easily move your drafts to Trash if you're no longer interested in them.
New fonts: Barrio, Lobster, and Silkscreen (August 25, 2022)
Added support for new popular fonts: Barrio, Lobster, and Silkscreen. Take a look at the Text tab in our editor to explore how the new font families can improve your sound wave art.
Improved export quality of circle sound waves (August 25, 2022)
The inner circle of a radial sound wave art was not perfect circle. It is improved to look smooth and flawless. Even with the maximum zoom availble in your favourite PDF viewing software.
Improved user interface for accounts (August 18, 2022)
We have improved the user interface of "Your Account" page by separating different sections into tabs. This will allow us to add more features without making the interface too cluttered.
Searching your sound waves (August 3, 2022)
Added a full-text search functionality to Your Designs page. Now, you can quickly search through your designs by the names of audio files or Spotify songs used to create them.
Background Templates (March 29, 2022)
Even the most creative of us need inspiration. That's why we've started adding specially designed dreamy gradients to our editor. You can set these gradients as the background to your artworks by going to the "Background" tab and selecting a template you like.
Read More about this feature here.
Custom Background Images (January 31, 2022)
WaveVisual presents: custom background images.
If you're a regular user of WaveVisual, you probably have already seen this new feature. Here is a good example:
Simply navigate to the Background tab in our editor. You can find Background tab below on both mobile and desktop versions of WaveVisual.
PDF exports (October 2, 2021)
You can now export your designs in PDF format in addition to PNG, JPEG, and SVG! PDF is a popular format to transfer documents. It is widely accepted, and it is the go-to option for printing. What makes PDF so popular is the fact that it is able to store various types of data, especially vector images. It is also widely supported by many electronic devices. If you plan to print your artwork, we recommend exporting your sound wave design as PDF.
QR codes on artworks (September 10, 2021)
Perhaps the best advantage of customized digital artworks is the unique ways we have to present the artwork. Two months ago, I published a feature to animate your sound wave while playing the audio you have uploaded. Now I'm adding a new way to share a link to this page and make it more accessible within the artwork.
Introducing QR codes in artworks
You can now generate a QR code for your design and import it in your sound wave artwork. This will allow you to print the QR code while printing your artwork and provide a way for anyone to simply scan the sound wave and to play the img/p audio.
Subscription plans
After a long time spent contemplating and coding, I'm happy to present to you the new subscription plans! WaveVisual now presents two subscription plans that provide a different number of export credits that you can use to purchase your sound wave arts. They're tailored towards businesses that require a higher number of orders each month.
If you need such a plan but cannot see one that fits your needs, contact us via live chat or by sending an email to [email protected]. We'll discuss options and try to accommodate a custom plan for you.
Playing the sound wave
The sound wave now gains reality with animation while you're listening to the uploaded audio. With this update, the permanent link to your design now includes a play option to listen the audio using the sound wave player.
This feature currently only works with audio files and not with Spotify links. The reason for that is due to the copyright issues around playing music from Spotify on a non-Spotify website like WaveVisual. I'll continue researching the topic and will try to provide this feature for Spotify links as well.
Spotify integration
Have you noticed our new audio source yet? WaveVisual now accepts Spotify links as an audio source along with audio files. Simply copy a song link from Spotify and paste it WaveVisual's form. The editor will fetch the song and convert it into an audio waveform that you can download.