New Feature: Sound Wave Trimming for Personalized Art
Last updated on August 8, 2023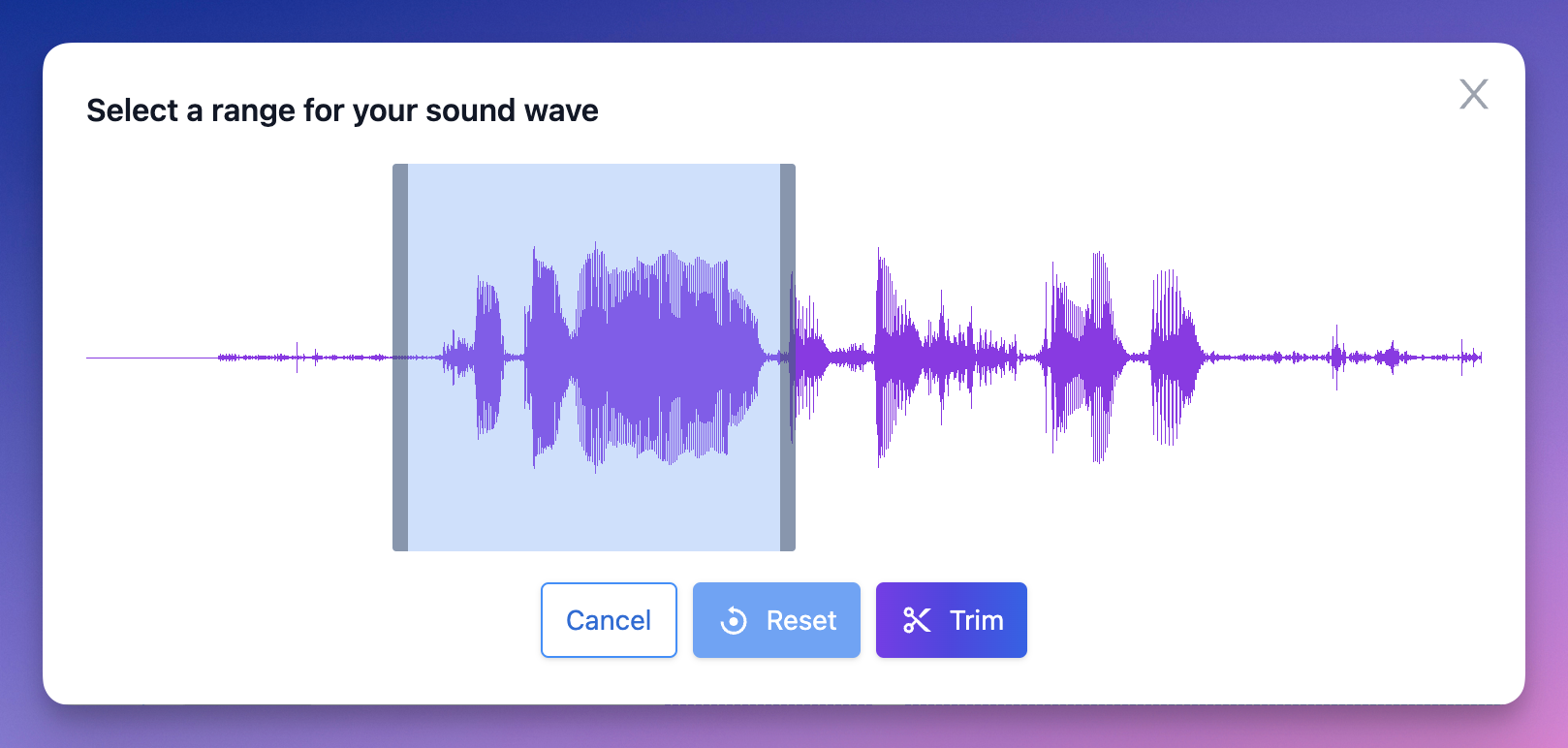 In the realm of sound wave artistry, every beat, every pause, and every note tells a story. At WaveVisual, we're constantly seeking ways to make that story more vivid, more personal, and more you. With great enthusiasm, we're excited to announce our latest feature that ensures your sound wave art is as unique as the melodies they capture.
Elevate Your Sound Wave Experience
Our newest feature stands at the intersection of technology and artistry: a sound wave trimming tool. With this enhancement, you can now perfect the details of your sound wave image, making it a true reflection of your chosen moment. Whether it's a heartwarming message, an exhilarating song, or any sound snippet close to your heart, you can trim it down to the exact section you wish to transform into art.
How WaveVisual's Trimming Tool Works
Initiate with Your Sound: Start by uploading the audio clip you want to transform into a music visualizer or sound wave image.
Engage with the Trimming Tool: Post upload, spot the new "Trim Audio" option. This is your gateway to precision.
Select, Slide, and Perfect: Use the trimming markers to pinpoint and highlight the exact part of the sound wave you desire. The playback feature ensures you've chosen the perfect segment.
Craft Your Sound Wave Art: Once you've selected your audio's perfect moment, transform it into sound wave art with WaveVisual's suite of design tools.
Below is how the process looks before, during and after.
More Than Just a Trim
This isn't just about cutting down audio. It's about spotlighting the essence of a memory. It's about turning the notes of a song or the rhythms of a voice into a visual masterpiece. Our goal? To provide you with tools that take your music visualizer or sound wave image experience to unparalleled heights.
Dive in with WaveVisual Today!
Eager to harness the power of our new feature? Visit WaveVisual now and immerse yourself in the world of sound wave artistry. Our team is on standby, ready to guide and ensure that every sound wave image you craft is a true reflection of your essence.
In the symphony of life, every sound holds significance. With WaveVisual, now you have the means to spotlight the beats that matter most to you.