How to Generate a Sound Wave Art
Last updated on Apr 01, 2022
Whether it is a home decoration item or is a gift, it can be hard to find a unique and personal artwork. We all want our decoration to represent who we are as a person. Yet, we end up buying mass production items from big markets that do not have much of a personal connection with us. On the other hand, creating custom decor is not easy. It requires training and often technical knowledge that many of us do not have.
WaveVisual provides a tool for you to design your own artwork based on the sound waves of songs, recordings, or any other audio you want. It doesn't require technical knowledge and is specifically designed for you to easily design a custom sound wave art that you can get printed. We gap the bridge between professional designer skills and customized home decors that have personal connections to you.
Go on and give it a try. It is free.
Upload your sound
Start by uploading a song or any other sound of your choice. It can be a song you love, or a recording of you saying intimate things to your loved ones.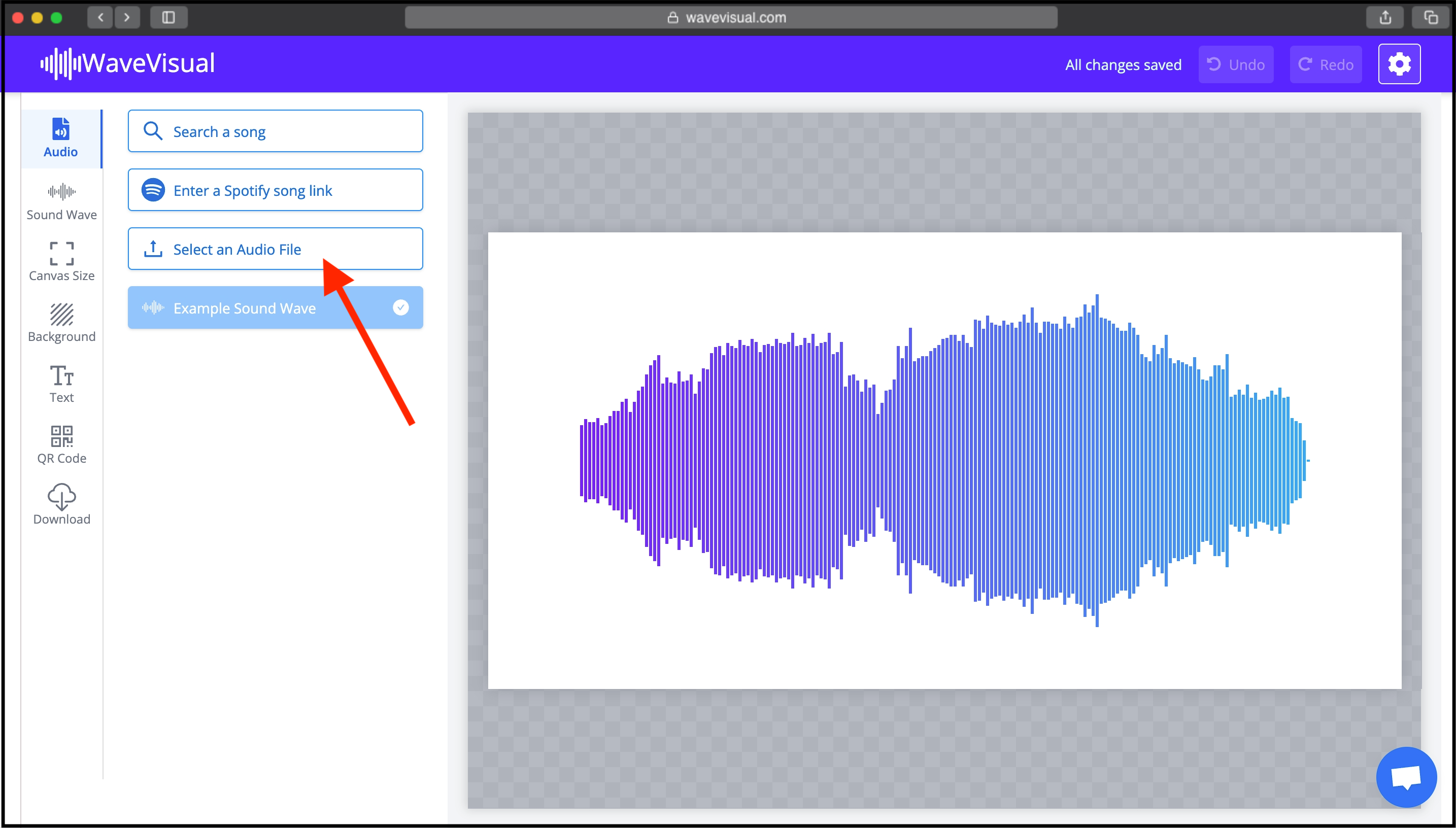 WaveVisual will quickly convert your sound into a sound wave that you can customize. The sound you use will not be saved on our servers and will only be used to generate the sound wave.
Pick sound wave colors
There are two default colors selected to get you started. You can remove or add colors to personalize your sound wave. When multiple colors are selected, you will see a gradient effect where the colors gradually morph from one another. You can select up to 5 different colors for your sound wave.
Wave options
WaveVisual provides three parameters to configure the appearance of your sound wave.
Thickness configures how thick each bar in the sound wave is going to be.
Space configures the space between bars in the sound wave.
Height modifies the height of bars. It can also go reverse when you reduce the height to create surprising shapes.
Simply play around with the options until you're satisfied with the result. You can reset each option by clicking the reset button next to it.
Text
WaveVisual also provides a text editing tool to personalize your art even further. You can simply add a text item from the text menu. Font size, text position, text color, and the font family are all customizable.
For instance, you might want to write the name of the song you're using for your design. Or you can include a personal message to the person you'll be gifting to.
Background
It is possible to modify the background colors as well. Similar to the colors of the sound wave, it is possible to set up to 5 colors for the background of your canvas. You will see a smooth transition between these colors as below.
You also have the option to upload an image as the background of your canvas.
Downloading
When you are happy with your design, click on the Download tab. Here, you will see the file formats and various image sizes you can choose to download your design in.
WaveVisual supports four file formats
PDF is a vector image format that can be resized to have a higher or a lower resolution without losing the quality of the image. (Unless there is a custom background image. In which case, your export quality will depend on the quality of the image you upload). It is the recommended format for most use cases.
PNG is a high-quality image format. You should choose PNG if your design has a transparent background or if you need a higher-quality image. PNG files usually have bigger sizes than JPGs.
JPG is a simpler format with smaller files. There can be some loss of the quality of the image. It should not be preferred for images that are going to be printed.
SVG is a vector image format. A vector image can be scaled up to any size without losing any image quality. However, it is harder to handle as it requires more specialized tools for editing. It is very useful if you want to export your design from WaveVisual and continue editing on another tool.
Let's start designing
That was all the knowledge you needed. Go ahead and try our editor on wavevisual.com/editor. Generate your sound wave art and customize it for free.